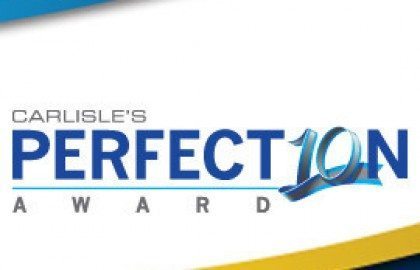 McNeil Roofing, Inc., was recently honored by Carlisle SynTec, a leading manufacturer of single-ply roofing materials, with its Perfection Award and was appointed to the inaugural Perfection Council.
The Perfection Award is a distinction that recognizes the top 5 percent of Carlisle's contractors based on a series of quality-oriented metrics, including installation quality and warranty claim performance. McNeil Roofing Inc. has earned this recognition multiple times.
Carlisle's Perfection Council Advisory Board, is the highest distinction in it's Perfect 10 contractor quality recognition program. McNeil Roofing INc. was honored with this high distinction because of its commitment to quality and dedication to service. Only the top 15 contractors in North America and Canada, determined by historical quality metrics, were chosen to sit on the Council.
Carlisle performs inspections of every project it warrants. Carlisle's award for acheiving a "Perfect 10″certifies that installation of the roofing system meets or exceeds all requirements for the Carlisle warrenty. McNeil Roofing Inc. is currently a Carlisle Hall of Fame member with over 400 "Perfect 10" awards.
McNeil Roofing is very proud of its employees' long-term attention to details, which made these two honors possible. Quality is a full-time commitment of McNeil employees.
Put our Expertise to Work for You.
If you are interested in working together, send us an inquiry and we will get back to you as soon.